New Caledonia has a new international class golf resort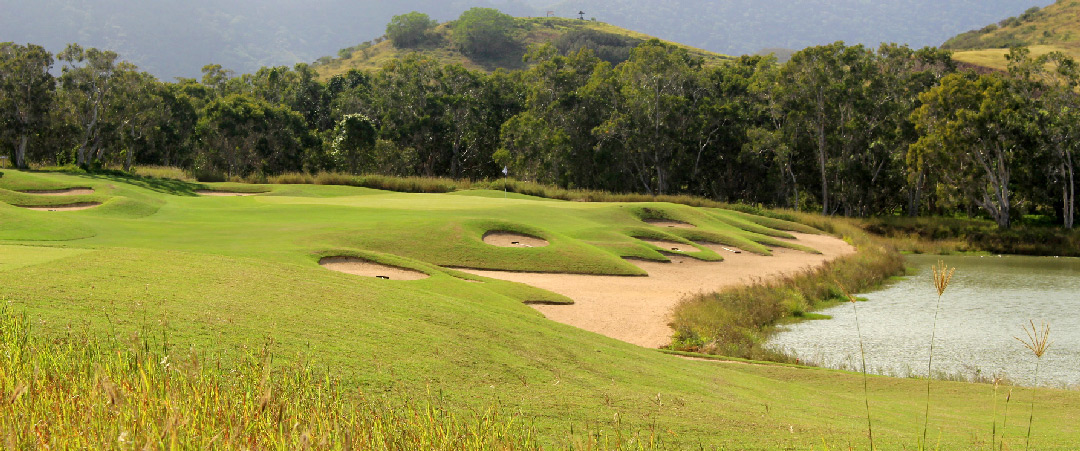 Already hosting three well-established 18-hole golf courses (Dumbea, Tina and Ouenghi), the Southern Province of New Caledonia (called « Province Sud »), together with the Deva Hotel Company (« Société Hôtellière de Déva »), launched, in 2014, a top-class facility that is commonly referred to as a touristic resort. The 5-star hotel with its "Deep Nature" SPA and its high quality 18-hole golf course legitimises, from now on, its ambition to be an international golf destination.
First of all, its location is one of a kind: it is nestled by the lagoon, on the west coast, in the middle of an entirely natural domain with a bird's-eye view of the surrounding hills and it provides a picturesque setting worthy of a Far West landscape. In addition to this completely quiet scenery, flora and fauna are abundant; you will surely find yourselves encountering wild deer and large turkeys.
The golf course architect is the American architecture office of the famous Pete Dye, Dye Designs Group, who has marked here his first masterpiece in Oceania.
Dye succeeded in enhancing the site, while respecting its ecosystem and its topography.
According to the first players, the result is stunning. « The golf course is as good as courses in Australia and New Zealand which are usually visited by the New Caledonians ».
Tee box areas are wide, there are 4 or 5 of them in some holes, with black tees reserved for professionals.
Due to the multiplicity of the tee box areas, you will have to choose your markings carefully as the "carry" of your first shots can be important.
As a whole, Professionals will be confronted with a golf course measuring 6 663 meter « Par 72 ».
The fairways are wider and more pleasant than usual, slightly twisty, weaving majestically between the Niaoulis, the local endemic trees (a distant cousin of the eucalyptus tree). Despite all this, be advised the semi-roughs are rather restricted and wayward balls can rapidly go in the undergrowth or bushy roughs. Recovery shots from here can be complicated.
We can see Dye's touch in the amount, the shape, and the variety of bunkers:
117 sand traps decorate the course, with everything from small bunkers to some whose length can hardly be equalled.
More than 300 meters of bunker on the 9th hole's left side make you think several times before choosing your line and trying to fly the bunkers on this left curving dog leg.
We find no less than 17 bunkers on the Par 3 11th, a truly picturesque hole, bounded on the right by a beautiful lake. It's the "selfie" time. We find again a multitude of bunkers of various shapes and sizes on the 14th, then a tree growing within a bunker on the left of the 15th's green, lonely, majestic, and magnificent.
But it's not over yet, at the 16th, two huge bunkers the right side of this dreadful Par 5 of 532 meters from the back tees, with a prevailing ¾ wind face-on.
The 16th looks like the start of a terrible finish.
The 17th, Par 3, signature hole in Cynthia DYE's plan, niece of Pete DYE that regularly followed the development of golf. Its particularity is its green which is similar to an island, with the lagoon in the background and a sea of sand to cross to get to the putting surface. The length of the hole is reasonable, 153 meters from the white tees, but the breeze should encourage players to over-club.
To finish, the 18th is a Par 4 with a breathtaking tee-off; it requires both length and precision to escape the Banian trees which are planted in … a sea of sand.
Another point worthy of mention on the course are the Greens.
They are standard size, 25 to 20 meters in length, 20 meters in breadth, with plenty of slopes and double slopes.
Note that all greens are PASPALLUM based, which is a variety of grass resistant to hot climates and iodinated seaside.
Overall, the Deva Course offers a great outdoor stroll, in the middle of typical New-Caledonian vegetation, which will give you a sense of wholeness and well-being, provided you choose the right tee-off areas.
This golf course's quality already makes it one of the jewels of the Pacific with an exceptional quality-routine maintenance.
Golf Course facilities also include


A driving range with 25 bays, on turf, with unlimited access to balls, displayed in pyramids
A putting green and a chipping green with 2 bunkers
40 new electric buggies
A Pro Shop in the hotel
A starter (half way house) close to the driving range, tees 1 and 10, greens 9 and 18
Sets of clubs to lease, premium graphite and steel, for right and left handers
The Resort includes :


180 luxurious accommodation including :

60 bungalows built like traditional Melanesian architecture
40 suites with one, two or 3 beds, all equipped with a kitchenette
80 apartments divided between 17 two storey establishments
All the bedrooms are equipped with a Smart LED TV, Wi-Fi, private terraces, spacious bathrooms and showers.

A high quality DEEP NATURE Spa opened in february 2015

The other main activities offered are :
The huge swimming pool of the Hotel, the beach, snorkeling in the lagoon, boat trips, deep-sea fishing, hiking, horse riding, farm visits, bike rides, kite surfing, microlight flying.